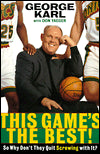 This Game's the Best! So Why Don't They Quit Screwing With It?
Head Coach Of The Seattle Supersonics - The 1995-1996 Nba Championship Finalists - George Karl Is A Delightfully Loose Cannon In A League Of Good Corporate Citizens. In This Game's The Best! Karl Offers His Unique Perspective On What Basketball Used To Be And What It Has Become. Karl Has Been On Every Side Of The Game: As A High School, College, And Professional Player; As A Head Coach In The National Basketball Association, The Continental Basketball Association, And In. Europe; And As A Parent, Watching His Son And Other Children Play. He Has Strong Opinions About What's Great About Basketball - And What's Gone Wrong - And He Isn't Shy About Expressing Them: How The Marketing Of Individual Players Has Eroded Team Play And The Power Of Coaches; How Michael Jordan Out-psyched Karl At The Beginning Of The Bulls/sonics Championship Series; How Superstars (and Their Agents) May Bankrupt The Nba; How North Carolina Coach Dean Smith (karl's. College Mentor) Builds Teams And Teaches Players To Think And To Win; How Young Athletes Are Spoiled By Coddling, Hype, And Unrealistic Expectations; How Basic Basketball Skills Have Declined In Favor Of Slam Dunks And Showboating; How He And The Sonics Have Matured As A Team And As Individuals, On The Court And Off; How Excuses Have Replaced Accountability For Losing And Failure - In Basketball And In Life; How Players, Fans, And The Media Have Lost Perspective On The. Place Of The Game In Their Lives; And How The Cba Could Save The Nba, And Other Radical Ideas For Change. George Karl And Don Yaeger.
Author: Karl, George Matthew.
Yaeger, Don.

Publisher: St Martins Press
Pages: 258
Publication Date: 1997-05-01T00:00:01Z
Edition: 1st
Binding: Hardcover
MSRP: 23.95
ISBN13: 9780312156718
ISBN: 0312156715
Language: en_US
Quality Rating: 1
"Book cover image may be different than what appears on the actual book."
---
We Also Recommend