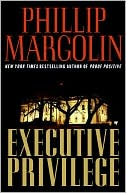 Executive Privilege: A Novel
When Private Detective Dana Cutler Is Hired By An Attorney With Powerful Political Connections, The Assignment Seems Simple Enough: Follow A Pretty College Student Named Charlotte Walsh And Report On Where She Goes And Whom She Sees. But Then The Unexpected Happens. One Night, Cutler Follows Walsh To A Secret Meeting With Christopher Farrington, The President Of The United States. The Following Morning, Walsh's Dead Body Shows Up And Cutler Has To Run For Her Life. In Oregon, Brad Miller, A Junior Associate In A Huge Law Firm Is Working On The Appeal Of A Convicted Serial Killer. Clarence Little, Now On Death Row, Claims He Was Framed For The Murder Of A Teenager Who, At The Time Of Her Death, Worked For The Then Governor, Christopher Farrington. Suddenly, A Small-time Private Eye And A Fledgling Lawyer Find Themselves In Possession Of Evidence That Suggests That Someone In The White House Is A Murderer. Their Only Problem? Staying Alive Long Enough To Prove It.--from Publisher Description. Phillip Margolin.
Author: Margolin, Phillip.

Publisher: Harper
Pages: 368
Publication Date: 2008-05-20T00:00:01Z
Binding: Hardcover
MSRP: 25.95
ISBN13: 9780061236211
ISBN: 0061236217
Language: en_US
Quality Rating: 1
"Book cover image may be different than what appears on the actual book."
---
We Also Recommend