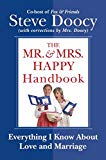 The Mr. & Mrs. Happy Handbook: Everything I Know About Love and Marriage (with corrections by Mrs. Doocy)
Author: Doocy, Steve.

Publisher: William Morrow
Pages: 256
Publication Date: 2006
Edition: First Edition
Binding: Hardcover
MSRP: 23.95
ISBN13: 9780060854058
ISBN: 0060854057
Language: en
Quality Rating: 1
"Book cover image may be different than what appears on the actual book."